Most Canadians, and possibly others, are well aware of the distinct green colour emblazoned, adorned (think hollowed out watermelon on head), or painted on bodies anywhere that an ardent Saskatchewan Rough Riders fan could possibly reach! And so it is also this green on the highway signs that guide us along the rural routes of this Land of Living Skies, and pull us from town to town in search of not only fine artists and artisans, but also the interesting, quirky and amazing!
A less than Smokey and the Bandit dramatic entry crossing the border into Saskatchewan left us cruising past gently rolling fields of green heading east in search of some cost effective WiFi and a coffee and cookie in Maple Creek. After our fill of both we headed off to Cypress Hills Interprovincial Park campground for a one night stay. Not exactly fitting in with our shoe-string budget accommodations but a nice stop nevertheless.
On to Eastend for a pleasant stay at the Riverside Motel and Campground run by Ed and Wendy. Very clean facilities with shower included and since we only needed power it was a great deal at $12/night. We also shared our cozy spot with an old chuck wagon, just one of many placed around the property, and also a beautiful array of birds that felt compelled to serenade and entertain us. Although definitely more fitting to our budget, Wendy felt bad that an ill-functioning smoke detector in one of the units may have kept us awake (we barely heard a thing), so she waived the fee altogether. Thank you Wendy and Ed, we will definitely recommend your friendly and hospitable accommodations.
On our way to Swift Current we rediscovered our unwelcome coolant leak and were quite concerned over the potential costs and delays to repair it, especially without our trusted VW mechanic close by. On top of that when I went to turn the LP gas on for the fridge and stove it seemed seized and wouldn't budge an iota. It never occurred to my neanderthal brain that I forgot to close it in Eastend and I was now energetically trying to snap off the fitting while trying to control my less than gentlemanly language that would make a rig worker blush! As it turned out I broke the well corroded handle and I realized after (err…Corinne might have mentioned it), that it WAS ALREADY OPEN! It was also Sunday with stores closing early and with too much stress and tension for one day we conceded to camp in the casino parking lot and look for answers the next day.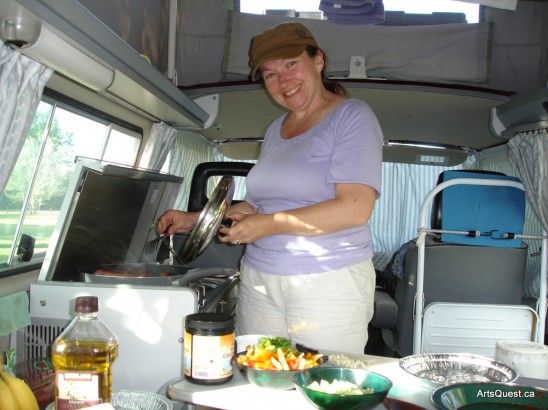 Aahh, but there is always tomorrow, and contrast seems to bring perspective! The next day we looked at the coolant problem ourselves and deftly "fixed" a couple of suspicious looking thingys and it now appears to be leak-free, not noticing any more poisonous coolant spewing from Arty. As well, we were referred to an RV fix it place from Mike at Home Hardware and they gave us a handle for our LP tank free of charge from an old one they had lying around. Woohoo!
Our super upbeat day ended in Eyebrow at a free campsite that also has power and water with a nice quiet small town atmosphere and quaint business names such as Eye Candy for the local candy shop. We liked it so much we stayed for three nights in an effort to catch up on work. It also appears that Eyebrow is a stopping place for many Monarch butterflies as our campground was inundated with them throughout the lilac bushes. In between we popped out to Tugaske 11km away to interview luthier David Freeman, so be sure to stay tuned for his interview to check out his Timeless Instruments!
Below is a quick little montage of our travels!
Saskatchewan Part 1 Heading East 2012 from Corinne and Gary Funk on Vimeo.