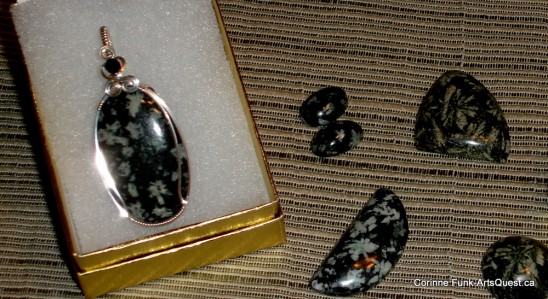 The day we were to head to Campbell River to meet Darlene Ngo and Barb Akelaitis was marginal at best. Our earth mother decided to serve up a little snow that day and although Arty was wearing his winter boots we just weren't sure what his reaction to the slushy stuff was going to be. We set out anyway on the island highway along the east coastal side of Vancouver Island hoping to catch a glimpse of some picturesque vistas, but it wasn't to be as a blanket of grey hung all around. We did run into the best gas price this side of Alberta at $1.14/l and were happy to squeeze in every last drop that Arty would take.
It was dark by the time we landed at Barb's house and Darlene hadn't quite arrived so in the mean time we chatted with Barb and her husband Anthony. Barb and Darlene have been working together, along with Keenan, Darlene's son, for several years and formed a business called Rocks Bejewelled after they each gained their own fervent interest in rock hounding and lapidary work. I love it when people are so passionate about their creativity whatever it may be. It means when you make a personal connection with someone's art form you can be sure their life energy, love and care went into making it and it really becomes long lasting and meaningful for the person who takes it home.
Shortly after we arrived, Darlene came in and we got down to our interview. This was the first interview that was planned on the part of the artist before our arrival. Barb had systematically laid out a story for us starting with some examples of the local geology and then leading through the step by step process after the rock has been plucked from its resting place on the beach or river bed and turned into a beautiful adornment that can accentuate someone's neck or ears. They introduced us to some glorious examples of what nature has created and how, through their desire to learn, they gave themselves the skills to transform a plain unsuspecting rock into brilliant and awe inspiring jewellery. Barb even went so far as to incorporate some of her favorite stones into the tiled work around her kitchen counters. We could easily see Barb and Darlene's appreciation for the rocks and the enthusiasm for sharing their knowledge with others. It was a fascinating journey they took us on and Gary and I thank them for taking the time.
Please be sure to watch their instructional "Journey of a Rock" video interview and we welcome any comments you may have.