October 1, 2012, we dropped off Arty for his post X-Canada check-up, strapped on the camera bag, laced up our walking shoes and started heading for downtown Calgary to do our last interview of the year in our former hometown. We went to meet Frances Vettergreen in her studio located in Calgary's beltline district.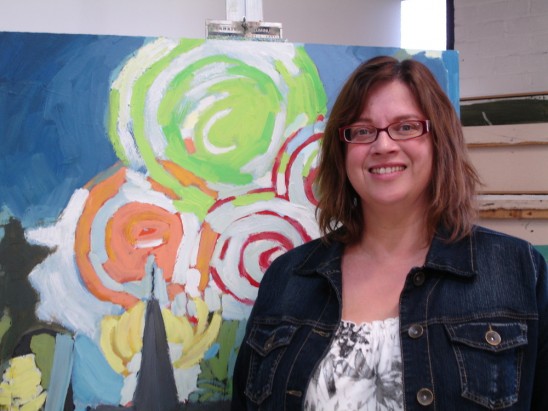 Frances is a painter working mainly in oils and cold wax. She refers to herself as a visual artist but there is much more to what meets the eye. Calgary is in the top five most sun drenched places in Canada and this affords an artist such as Frances plenty of clear days for exploring her surrounding prairie and mountain landscapes and storing away ideas for her next painting. She is always tuned in to her surroundings and although she may not recognize her experience as the catalyst for a painting at that moment, it lies dormant and when the time is right it bubbles to the surface. My first "visual" impression of her work was a stimulating experience as the brightly coloured shapes on the canvas left me wondering where she could have been and what she might have seen. Her work leaves me wanting more. More questions, more answers, more sensory stimulation.
I must admit my preference for visual art had a propensity to lean toward the more realistic representations of the world, but like all things we don't understand art in the abstract is sometimes hard to appreciate. Humans are highly visual creatures and I, like many, stay in my comfort zone when it comes to some things, like art for instance. Gladly and as I had hoped, Frances opened my eyes to see beyond the obvious. Her paintings stood before me and gave me a taste and a feel for how abstract visual art encompasses solid creativity. It was joyful to be able to grasp that even in a small way. Now that I understand the abstract world of art a little bit more it has been like opening my eyes for the very first time. It is new, bright, big and exciting!
Please join us in our conversation with Frances Vettergreen. Comments are always appreciated!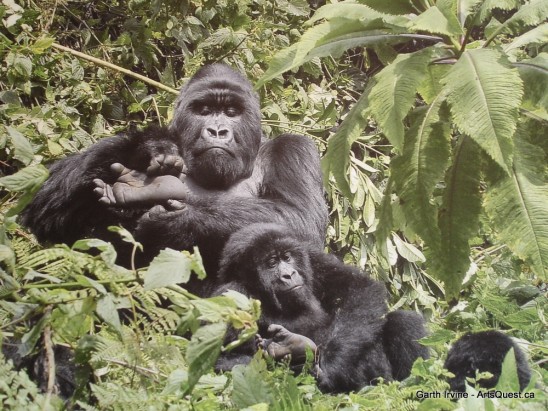 Above: Mountain Gorillas in Rwanda
Garth Irvine's artistic calling has certainly come to light as a noteworthy wildlife photographer, which is not to say that he wasn't accomplished in the arts of stained glass or glass blowing (I say, you should see his Tiffany style lamps!). But considering that he has spent most of his working life as a Zookeeper and very experienced in the behaviour of animals, it only makes sense that those skills and knowledge would lend themself well to wildlife photography where anticipating an animals behaviour can muster up some pretty fine pictures!
In addition to his Zookeeper career, Garth has also been leading ecotours through Nature Encounters Tours and Travel Ltd., which has been a vehicle to the venues for the breathtaking photos that you see throughout this post and his linked site. So hurry up everyone, book a tour with Garth so he can get out there and bring us more of those remarkable photographs from all over the globe!
Armed with an arsenal of knowledge and his camera, Garth's vivid photographs of these iconic gifts of nature invokes a feeling of "closeness" to them, and I can only wonder at the exhilaration, mixed with a certain amount of that instinctual fear of the unknown, that Garth must feel being so up close and personal with these magnificent animals on their home territory.
Click on the thumbnails below for the big picture:

Be sure to join us for an engaging few minutes with Garth as he brings us closer to the animal world! And don't forget, Comments are Cool!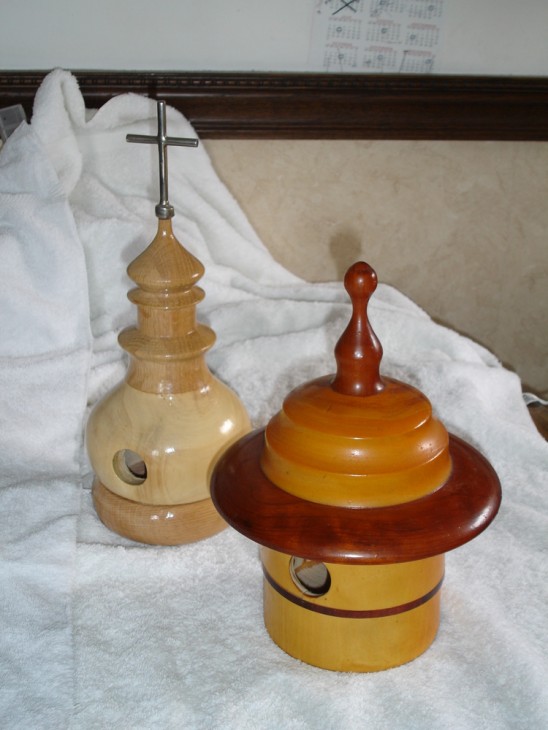 I met Jack and Glenda while shopping on Kijiji for a pressure canner. As luck would have it, I found one and I also found Jack and Glenda. Most purchases I have made off of Kijiji have been uneventful for the most part except for this occasion. Jack and Glenda are a retired couple who keep themselves busy in the garden, and puttering around the house. When Gary and I met them, we got to sample some wonderful cherry tomatoes and Jack introduced us to his eye catching hand turned wooden bowls and Ukranian bird houses (as Jack referred to them).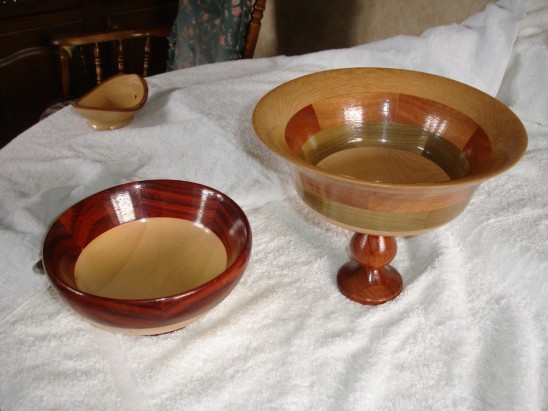 Glenda is the beauty and Jack is the brawn. Jack turns the bowls on his lathe machine in his well stocked shop out back and Glenda puts the finishing touches on them. The shine brings out the striking patterns and color in the different kinds of wood that Jack comes across. He even had us trying to guess at some of the wood. I have never seen yellow wood before and I mean lemon yellow. I guess the caragana bush is yellow. Who knew?
I couldn't wrap my mind around how these bowls were made so I found myself asking Jack and Glenda if we could come back sometime when he was making a bowl so we could watch and see how it was done. They happily agreed. When we did come back not only did we get to see how Jack makes his bowls, he had us making our own. Gary was the brawn in this case as a lot of muscle goes into carving out a bowl. In the end we did walk away with our very own Corinne and Gary hand made bowl. Thanks Jack for taking the time!