October 1, 2012, we dropped off Arty for his post X-Canada check-up, strapped on the camera bag, laced up our walking shoes and started heading for downtown Calgary to do our last interview of the year in our former hometown. We went to meet Frances Vettergreen in her studio located in Calgary's beltline district.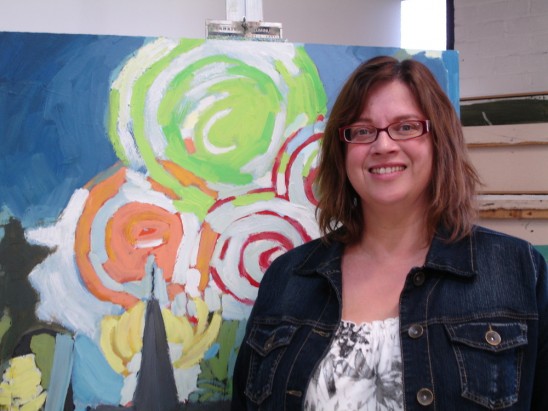 Frances is a painter working mainly in oils and cold wax. She refers to herself as a visual artist but there is much more to what meets the eye. Calgary is in the top five most sun drenched places in Canada and this affords an artist such as Frances plenty of clear days for exploring her surrounding prairie and mountain landscapes and storing away ideas for her next painting. She is always tuned in to her surroundings and although she may not recognize her experience as the catalyst for a painting at that moment, it lies dormant and when the time is right it bubbles to the surface. My first "visual" impression of her work was a stimulating experience as the brightly coloured shapes on the canvas left me wondering where she could have been and what she might have seen. Her work leaves me wanting more. More questions, more answers, more sensory stimulation.
I must admit my preference for visual art had a propensity to lean toward the more realistic representations of the world, but like all things we don't understand art in the abstract is sometimes hard to appreciate. Humans are highly visual creatures and I, like many, stay in my comfort zone when it comes to some things, like art for instance. Gladly and as I had hoped, Frances opened my eyes to see beyond the obvious. Her paintings stood before me and gave me a taste and a feel for how abstract visual art encompasses solid creativity. It was joyful to be able to grasp that even in a small way. Now that I understand the abstract world of art a little bit more it has been like opening my eyes for the very first time. It is new, bright, big and exciting!
Please join us in our conversation with Frances Vettergreen. Comments are always appreciated!