Home of Shirlee Hogan and Pastimes PEI Rug Hooking and Wool Shop
I had it in my mind that our trip across Canada would not be complete without interviewing a traditional Maritime crafter. Having never been to the east before, I wasn't exactly sure what we were looking for in that regard but when we stopped in at the Nova Scotia Tourist Information building we found rug hooking. I didn't know what was traditional about it at the time but I was looking forward to finding out.
This is a story about three sisters, Shirlee Hogan, Heather Tweedy and Bette Young of Pastimes PEI Rug Hooking and Wool Shop. The story starts off with Shirlee looking for a pastime to pass the time. She discovered rug hooking about 25 years ago and it seemed like a good fit. Soon after, her sisters Heather and Bette thought it would be fun to give it a try and so they joined in as well. As time went on a business emerged for the three sisters and they have been at it ever since.
We met with Heather and Shirlee at Shirlee's country home. She lives in an adorable house that looks like she bought it from Hansel and Gretel. This is also the home of the sisters' rug hooking and wool shop business. Shirlee and Heather were awaiting our arrival at their shop and I was excited to see what we would learn that day. I had no idea what we were in for. We couldn't have found two better ladies to interview. Not only were they a wealth of knowledge, they also shared wonderful stories about each rug they introduced us to. The better part of an hour was spent talking to us about how they got started, the history of rug hooking in PEI and to top it off they gave us the Coles Notes version of how to make a rug. We even got a hands on lesson!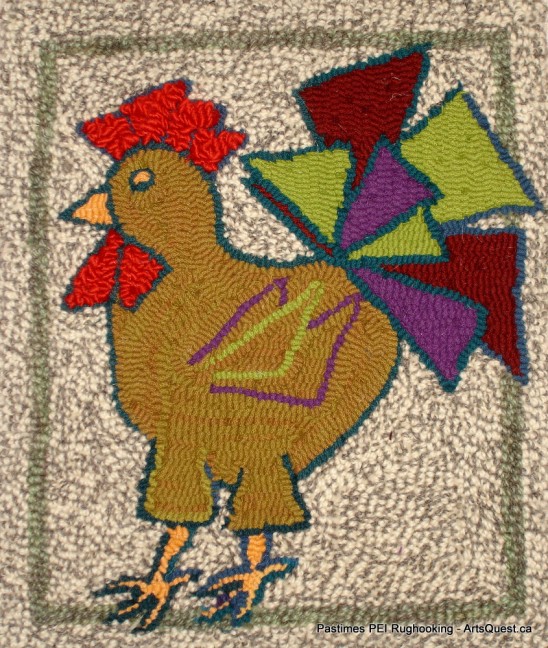 When I first looked at traditional Maritime rug hooking my first thought was, "it looks kind of simple". It didn't look overly creative to me or what I perceived to be creative. I would come to find out later that this is part of the tradition; the rugs were born out of a need for functionality rather that a need for creativity. There are two styles, the Cavendish or geometric which made good use of small scraps of fabric that would otherwise be discarded, and the pictorial, which depicted images of people's farms, their houses, nature and pretty much anything that was important in their lives. These weren't just rugs that guests would wipe their feet on, there were stories captured in those rugs like photos in an album.
Click on the images in the gallery below to see a larger image.
Rugs were made by women who dauntingly cut each strip of fabric from old, worn out clothing. The colours were limited to what they had back in their day. They were primarily dark, representative of work clothing. The Pastime ladies have expanded on the colour palette a bit but they remain steadfast in the simplicity of the patterns which still represent the important things in people's lives today. They do, however, have a great little machine that cuts the fabric strips for them; several at a time of course. And, if you aren't into investing any time in preparation the ladies have assembled kits so you can get down to rug hooking business right a way. I was astounded to hear that Heather hand draws every single pattern, and not just the original to be mass printed on a machine; every single one! Whether you are a seasoned hooker or a first timer, they want everyone to have the best experience possible and so they pretest all their patterns. The sisters complete each pattern before it is packaged into a kit or sold on it's own. Talk about a labour of love!
Gary and I had fun spending time with Shirlee and Heather and we left there feeling hopeful that some traditions of the past are alive and well. Of course the 'simple' theme emerged once again with the lives of those that came before us, teaching valuable lessons in friendship, recycling (although that wasn't even a word back then) and cherishing the precious moments in our lives.
Join us with Shirlee Hogan and Heather Tweedy in their interview and watch as they share with us the story behind the Cavendish rug and a lesson on how to rug hook. Please feel free to leave your comments as well.
I can't paint every younger person with the same brush (although I would like to) but it gives me great comfort in knowing the future is in the hands of some of the younger people Gary and I have met along our journey. When we were in Newfoundland and Labrador it was recommended by two people that we go drop in on Jennifer Galliott. Jennifer is a tapestry artist, and she is also a potter and painter and gallery owner. She lives in Woody Point, right in the heart of Gros Morne National Park. At one time her grandfather owned a boat store for his fishing equipment which sat across the street from the water. Due to an unfortunate fire incident the boat stores across from his burnt to the ground. Eventually Jennifer's grandfather was able to move his store across the street and it has sat on the waterfront ever since. This was significant not only for the convenience of accessing his boat and fishing equipment but also because nowadays it is the home of Galliott Studios and it's quaint little cafe. Jennifer renovated the building that I imagine once smelled of ocean life, and turned it into a place where local art is on display for sale, including her own. It is also a place to meet, hang out and enjoy the breathtaking view from the deck that sits right on the water.
Jennifer struck me as a determined and ambitious young entrepreneurial artist. She graduated from art school in 2008 and she could have chose to go anywhere in the world to eke out a living for herself but she chose to come back to the small village of Woody Point, Newfoundland. Since then she has established a name for herself in the community and her studio and cafe has a reputation as the place to go and connect and seek out wonderful local art. She regularly brings in local Newfoundland and Labrador musicians for Sunday evening get togethers and has invited author readings in conjunction with the writers festival that comes to town once a year at the end of August.
We had a chance to spend some time with Jennifer and get to know her a bit. We all mutually agreed an interview was a great idea for the next day. Unfortunately we weren't able to make it happen but Jennifer agreed to an e-mail interview along with some pictures of her work. Check out what she has to say about herself and her art.
AQ: How long have you been creating your tapestry? Jennifer: I've been weaving tapestries for 5 years now AQ: painting? Jennifer: on and off for years AQ: pottery? Jennifer: two years
AQ: Why did you choose these three mediums? Jennifer: I stumbled onto pottery when I found a kiln for sale for cheap online. After that my aunt gave me her kick wheel, and it kind of grew from there.
AQ: You took part of your art education in Alberta. Was it easy for you to decide to come back to Woody Point, Newfoundland and work as an artist? Jennifer: Yes. While I was away I made art largely about Newfoundland. The town of Woody Point is such a wonderful place people wise, as well as the natural beauty. Not only are both sides of my family from here, the town is also located right in the heart of a UNESCO World Heritage Site, Gros Morne National park, I don't think it gets much better then this.
AQ: What challenges have you faced as far as establishing yourself in a small community like Woody Point? Jennifer:The town is very seasonal, also there isn't a lot of money in small towns to be spent on a lot of art.
AQ: Are there some things you find easier being an artist here than in a bigger center? Jennifer: I'm surrounded by constant inspiration.
AQ: Please explain the process you go through when designing and crafting your tapestry? Jennifer: Before I weave a tapestry I first need to draw what is known as a cartoon. A cartoon is kind of like a blue print of what I will weave. It is a picture that is true to size and sits behind my loom as a guide to what I am weaving. Once this is done and sometimes coloured in, I then have to tie vertical strings known as warps, and make sure the tension is even throughout. Then the weaving starts.
AQ: What and/or who influences your designs? Jennifer: Mainly travel, being homesick, or home.
AQ: What advice would you give someone either thinking about pursuing an art career or someone who is fresh out of art school? Jennifer: Don't give up. If there's no work you just need to make some for yourself. Also learn how to apply for things and either enter yourself into nominations, or get a friend to do it for you. Also always ask for help you never know the huge amount of talent that could be around you.
AQ: What is the most gratifying aspect of being an artist in the mediums you have chosen? Jennifer: Being able to make an idea reality. I always try to push my limits and luckly don't see the enormity of something until I'm in the thick of it. That being said I'm also very stubborn and no matter how long it takes I manage to finish what I've started. There's nothing better then being able to look at something and think wow! I made that.
Gary and I arranged to meet Dorothy Clark at her home in Shutty Bench, B.C. After maneuvering Arty around the sharply meandering hills and flats, we arrived and were greeted by Dorothy's two golden retrievers who promptly showed us the back door. If they weren't so friendly and weren't dogs, I would have thought the welcome mat wasn't rolled out for us. This of course was not the case at all. When we finally found the front door (didn't take that long), we were invited in by the textile artist herself. She is a charming lady of Scottish decent with a warm smile and a peaceful demeanor. Both her and her husband are from a sub community of our old back yard, Bragg Creek, Alberta. Like many couples of retirement age (this could be any age, really, as Gary and I feel retired), they desired to move to a more hospitable climate and retreat from the foot print of a big city, in this case, Calgary, Alberta.
Dorothy has a wonderful space in her home in which to work on her quilts and what she calls her critters. The critters are on display and for sale at The Live Art Shop in Kaslo, B.C. When we talked to one of the co-founders of The Live Art Shop, Eliza Fry, she told us that even though the little critters are mostly intended for children, it seems they are popular with adults. I understood what she meant as soon as I picked one up. They feel wonderful and reminded me of my coveted blanket when I was a child. Likely, they resonate with other "big kids" in the same way.
Dorothy's quilts represent years of "craftswomanship" and it is obvious that she loves what she does. They are colourful and her designs are nature inspired. I have spent time in the past trying my own hand at quilting and I can tell you there's a lot of work involved. So the next time you are thinking of purchasing a quilt for your bed or as a wall hanging consider investing in one that is handmade. It will likely be something you will want to wrap yourself or your walls in for years to come.