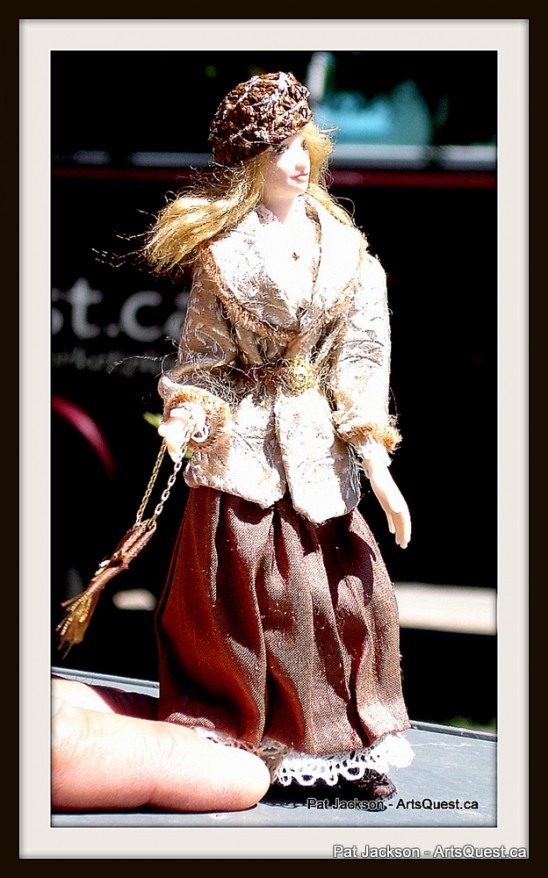 Hartney, Manitoba was the first place we decided to try out our new artist finding strategy. This entailed asking the local folks if there are any fine artists or crafts people in town. In Hartney I went into the town office and inquired with a lady behind the front desk and also with Dawn the librarian. At first they had trouble coming up with anyone but soon names were rolling off their tongues and Dawn even volunteered to help by calling a few on my behalf. I should have clarified that we couldn't interview all of them but we managed to arrange two interviews and one of them being Pat Jackson.
Pat is an artist who creates miniature porcelain dolls. She began working with standard sized dolls, but due to an unfortunate accident left her unable to manage the larger size and so she began working in miniature and as she says, became hooked. She pours her own porcelain into premade molds and she also does her own original castings which usually are one of a kind. The faces are hand painted and each layer of porcelain paint requires eight hours of time in the kiln. Upon completion, Pat then looks for the ideal fabric to make the dolls clothing, even the underwear is authentic to that period of time. As Pat was explaining to us what she does, I continued to be amazed at the patience this woman must have. She says this is one of the benefits of living in a small town where there are less distractions and in her case her dolls are a great way to occupy her time.
Pat designs and makes her own settings and accessories as well. Her Victorian and Edwardian dolls have the furniture appropriate for the period and accompanied by adornments of flowers. I was astounded to learn that a vase (which was a miniature brass candle holder) of paper iris's were all painted and assembled by hand. Each bloom was the size of a lady bug. She even needed some camouflage material for a male doll she made to represent the soldiers coming home for Christmas. There is no fabic with the tiny camouflage pattern she required so it was hand painted on. It seems there is no limitation to Pat's imagination when it comes to finding materials to suit her particular needs and she is constantly utilizing found things. One day while grooming her dog, she saw the need to create a miniature dog that resembled her pet and she used scraps of her pooches hair to get the job done. She also asked her daughter Niquie if she would donate a snippet of her hair to authenticate the original miniature Niquie baby doll. I must say that the resemblance of the dolls to their living counterparts is uncanny.
Please click on the images below to view a larger aspect.
The research, care and detail that Pat puts into these very tiny dolls is nothing less than astounding and from what I can see there isn't anything she has left out. Some of the details are so small you would need a magnifying glass in order not to miss anything.
Watch Pat's interview and see for yourself what I mean. We welcome you to leave a comment for Pat as well.