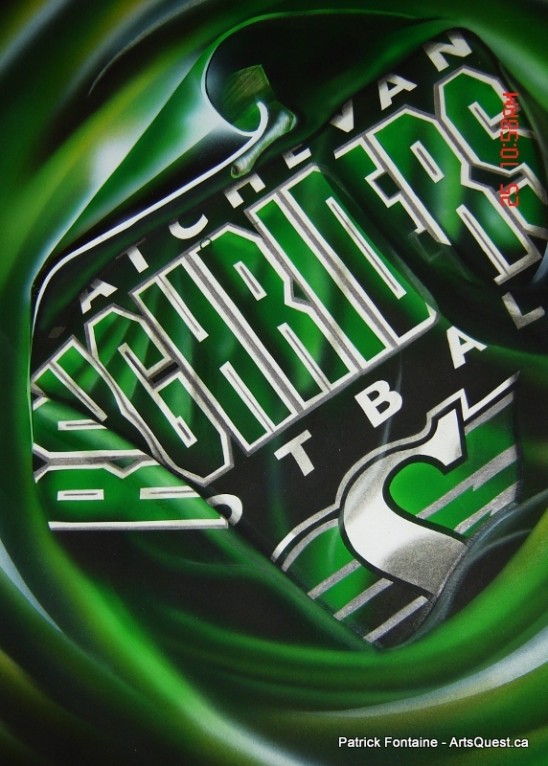 After talking with Don Smith in Mossbank, we packed up Arty and headed out to meet Patrick and Lisa Fontaine. One last look at the e-mail would reveal an invitation for a BBQ lunch. Due to powerful headwinds we arrived right on time at Lisa and Patrick's farm which they share with their three dogs and a variety of wildlife.
After a few minutes of getting aquainted over some tea and coffee, Lisa began telling us how synchronicity would be on their side the day we found Patrick's business card pinned under our wiper blade. Patrick had finished a painting job for Moose Jaw Tourism a couple of weeks prior and they happened to be stopping by that fateful day to do some finishing touches when Lisa noticed our van and suggested to Patrick to leave his card. If Arty hadn't been having problems that day we may have missed them. We couldn't find any of Patrick's work on the internet so we e-mailed him to ask for some pictures. He did and we were pleased with what we saw.
This all took place on Thursday but we couldn't meet until Sunday as we were waiting for some much needed Arty parts to come on the bus from Calgary. Saturday we spent most of our time in the Canadian Tire parking lot to replace the expansion tank for the coolant. Gary did an awesome job thanks to his patience and a giant syringe which is a story for another day. So early Sunday afternoon we grabbed our appetites and headed for the farm.
Lisa and Patrick had prepared us for a yard gone wild due to being away for a time however when we arrived everything was nicely groomed. I have a feeling they must have gotten up at the crack of dawn to zip around with the mower plus prepare this incredible lunch. And I'm not just saying that because we are cooking van meals these day. There were these fantastic steaks accompanied by creamy mashed potatoes, sweet corn on the cob, my favorite, barbequed mushrooms and a selection of fresh cut up veggies and some of Lisa's grandmother's mustard pickled cucumbers. I was beginning to think if this guy can paint a fraction as good as he can cook than we stumbled upon a hidden gem pretty much out in the middle of nowhere. I love this quest!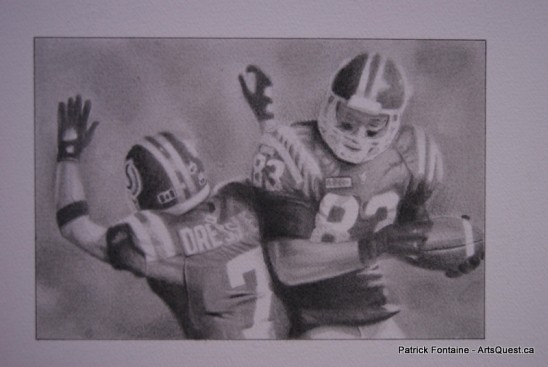 Patrick is a soft spoken and humble man who has had some challenges during his younger life that many people couldn't even imagine but despite all that he discovered he loved to draw and paint which helped him get through those trying times and his passion has grown stronger year after year. Patrick is an eclectic painter and his subject matter ranges from portraiture done in pencil to an airbrushed side panel of a freighter. He is not afraid to test himself on any subject and seems to quite easily rise to the occassion. Unfortunately, he has many more ideas and not enough time to explore them. Lisa is a wonderfully supportive partner and is encouraging Patrick to take the winter off from his house painting business to put those ideas down on canvass. I say follow your dreams. Life is lived but once!
We welcome you to check out Patrick's video interview and please feel free to leave comments below.
Painter Patrick Andrew Fontaine from Mitchellton, Saskatchewan from Corinne and Gary Funk on Vimeo.