We traveled down East Hastings to Vancouver's Downtown Eastside in search of Raven's Eye Studio and to meet with Haisla Collins. Haisla (pronounced H-eyes-la) is an accomplished mixed media artist in the mediums of painting, screen printing and drawing, and she is also a blues musician and bead worker. She wanted to share with us a mural which is painted on the side of the building where the Raven's Eye Studio is located. She and several other artists were commissioned to do "Through the Eye of the Raven" in 2010. The mural is epic and left Gary and I awestruck in its presence. For the people of Vancouver's Downtown Eastside it represents a beautifully orchestrated community effort. Although Haisla and her painting peers collaborated on the subject of the urban aboriginal experience, they also drew ideas from the people living in the community and their personal interpretation of it. The cement canvas consists of all the different parts that make up the whole First Nations community; the people, the neighbourhood, the buildings, nature, animals, traditions, culture and history. It represents pride, hope and unity. If you ever find yourself in the 400 block on the south side of East Hastings be sure to look up, way up as you won't want to miss it; nor can you.
After leaving Raven's Eye Studio, we walked down a couple of blocks to the Carnegie Community Center which is located on the corner of Main and Hastings in Downtown's Eastside. The community center was built in the 1800′s and is an incredible piece of historical architecture. It was likely occupied by various other organizations and perhaps businesses in its past but I wonder if it was ever bustling with as much life and activity as it is now. Haisla recently started a job there doing what she loves; art. She teaches people in the community how to paint while researching and strengthening her own skills and giving strength to others at the same time.
Click the thumbnails below to see a larger image of Haisla's work.
Haisla describes her work as indigenous expressionism. She is facinated by the connections between people and the interconnectedness of their internal and external environments. Her influences include Picasso, Renoir, and Van Gogh as well as more traditional artists like Bill Reid and Lyle Wilson. Her paintings are such that your eyes are drawn to them even if your gaze was elsewhere. When I asked her where her ideas came from she simply stated that she focuses on themes and what attracts her interest at the time. As well, she has a system in place for managing her creativity; when she is feeling creative, she sketches her images one by one and when she is not feeling particularly creative she finishes them. For Haisla, visual art and music have been her outlets for expressing herself in regards to her own experiences as well as her interpretation of other peoples experiences. Having said that, she is also very pragmatic about it and realizes that hard work and hours put in are what you do to become a strong artist. I have no doubt she instills this philosophy in her students as well.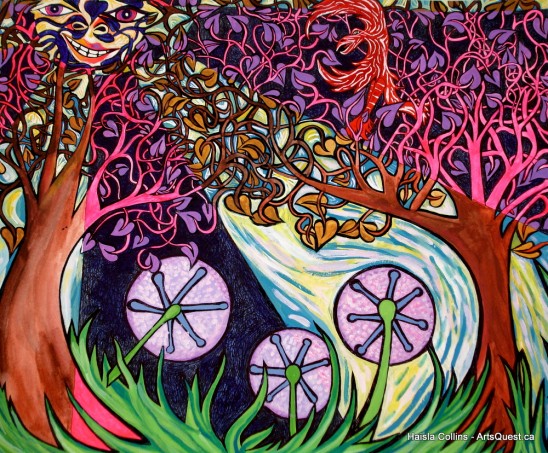 Check out our interview with Haisla Collins as she talks more about her art and the "Through the Eye of the Raven" mural. We invite you to leave comments as well.