Along a busy Vancouver street in the Point Grey area, sitting in a chair out on the sidewalk, there we meet master Woodland Artist Mark Anthony Jacobson doing what he does best, engaging people with his warmth and energy, and taking a genuine interest in them, something not commonly found in this hustle and bustle world! With Mark it is all about connecting with people, and if they appear shy about coming up to him to look at his art work, he instantly makes them feel comfortable, like an old friend. That affability mixed with his intensity and passion for his culture, beliefs, and life's work made for a dynamic interview! And so, for the first hour of our meeting we chatted with Mark on the sidewalk in between his interactions with other passersby or friends pausing to say hi.
Like many of the artists we have interviewed, we found Mark by stumbling and searching through the internet world looking for someone that would not only catch our eye, but also be willing to meet with us. Mark was more than both those people! When we first got a glimpse of Mark's paintings they immediately grabbed our attention, the vibrant colours and dominant features first, and then the less obvious and more subtle content coming into focus as we lingered; finding life within life and always the theme of interconnectedness of mother earth as a common denominator. Be sure to check out our video interview below as he goes into more detail about the shamanistic messages scripting his paintings, and he as the messenger!
Moving from the sidewalk into the gallery gave us some other "in-sight" into Mark's work. He is one of three First Nations Ojibway artists that occupy the space in the Greenery Native Art Gallery within the Greenery Florist, a unique and ingenious collaboration; a row of aromatic orchids pulling us into the gallery by our sniffing noses and then the eye opening paintings capturing our visual curiousity. A taste from the bowl of Werther's and it's almost a complete stimulation of the senses! It is worthwhile to note that Mark is also the first native artist in Canada to launch a Catalogue Raisonné, a project for establishing provenance of his known artworks to date.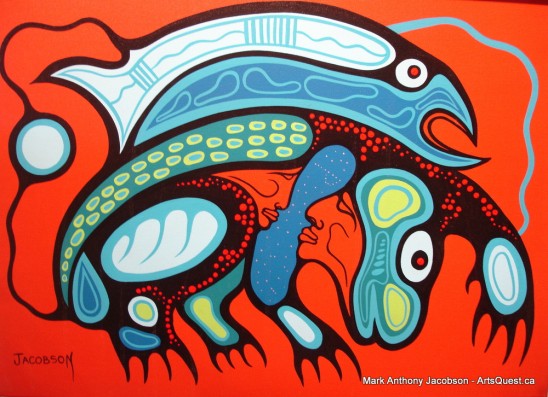 Click on the images below to get the whole picture!

The next eleven minutes will seem like two as Mark's energy, passion and spiritual philosophy carry us on a journey inside the man, the message, and the mission!! We encourage you to post comments. All my Relations.